Congratulations to our senior and junior Field Hockey Varsity players who recently received the Optimal Performance Associates/National Field Hockey Association (NFHCA) High School National Academic Squad award! This award is presented to seniors and juniors who achieve a minimum grade-point average of 3.5 out of 4.0 while being a member of a field hockey team.
Additionally, Nicole Sepessy was awarded as a Scholar of Distinction, which is given to those athletes that achieved a minimum cumulative, unweighted GPA of 3.9 out of 4.0.
Congratulations Girls!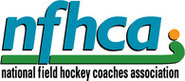 2019 Varsity Athletes Named to National High School Academic Squad!